M-Power Solutions Scavenger Hunt Challenge
Six teams from M-Power Solutions battled it out in our scavenger hunt challenge in Mandurah on Saturday. After a week of heavy rain we got lucky with the weather with only a light shower throughout the event. All teams were really competitive throughout the event (this was evident during the marking – a few dodgy photos & items) however a couple of teams made a couple of costly mistakes that proved the difference as they missed out on some big points and only 40 points seperated 1st and 2nd.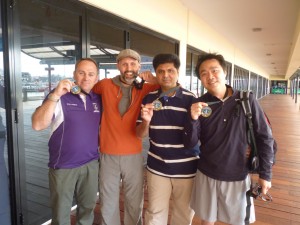 Here is the final points tally for the day.
Black Team – 4050
Purple Team – 4010
Orange Team – 3910
Blue Team – 3880
White Team – 3670
Yellow Team – 3280
Here is a video of all your photos
Download Video (Right Click & Save As)

Thanks for a great morning guys. I had an absolute ball with you and I particularly liked the competitive spirit and comradery amongst your team. I hope the rest of your conference and stay in Mandurah was great. See you next time.
0
0
Ella
https://www.totalteambuilding.com.au/wp-content/uploads/2016/01/ttb-logo-new.png
Ella
2013-08-22 09:59:30
2013-08-22 09:59:30
M-Power Solutions Scavenger Hunt Challenge